ID Card Systems and Zebra
®

ZXP Series 8:
A card printing solution that earns high marks

For producing lasting, high quality ID cards for students, faculty, staff, and visitors, the Zebra ZXP Series 8 retransfer card printer presents best-in-class features:
Photo quality IDs—Sharp print resolution and image quality, even at high speeds and on uneven surfaces like smart cards, plus edge-to-edge printing
Diverse and flexible—With modular options, including magnetic stripe and smart card encoding and laminating, the ZXP Series 8 can graduate to new functions as needed
High speed—Fastest print speed in its class, up to 190 cards/hour, and prints dual-sided cards in one pass
Easy to use—Designed for easy set-up, operation, and maintenance, and includes Zebra's ZMotif

™

card design software with customizable template
Affordable—

Low cost per card
More cards per ribbon

Free installation and training—ID Card Systems extends Zebra's inherent value by providing installation and training at no extra charge!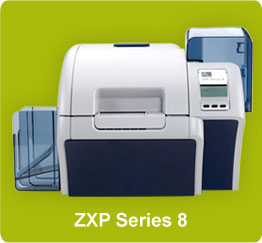 Contact Us to Learn More
Zebra ZXP Series 3: Smart for small spaces
Zebra's ZXP Series is renowned for its peak performance—quality, speed, and reliability. Now, with the ZXP Series 3, you can get all the best-in-class features in a compact footprint, ideal for small spaces where you need to generate ID cards and passes with minimal workspace.
Best-in-class performance at affordable price
High-speed printing with optimized quality
Easy Load-N-Go

™

ribbon cartridge with True Colours

®

ix Series

™

high performance ribbon
Options for single- and dual-sided direct-to-card printing, smart card and magnetic stripe encoding
Combine Zebra's advanced technology with ID Card System's expert knowledge and service. With more than 50 years of industry experience, ID Card Systems is a specialist in ID solutions. Click here to contact an ID Card Systems specialist.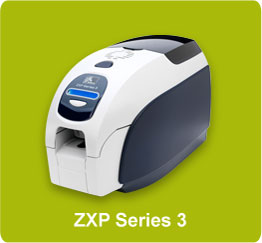 Contact Us to Learn More
GO Zebra12: Earn up to $400 cash back on your trade-in
Thanks to the GO Zebra12 Card Printer Trade-in Program, you can earn up to $400 cash back when you trade in your old card printer—a Zebra or competitor's model—and purchase a new Zebra card printer from ID Card Systems. Get details here.

ID Card Systems, Inc.
2248 Enterprise Parkway East
Twinsburg, Ohio 44087
P: 800-763-9099
sales@idcardsystem.com
www.idcardsystem.com